Resources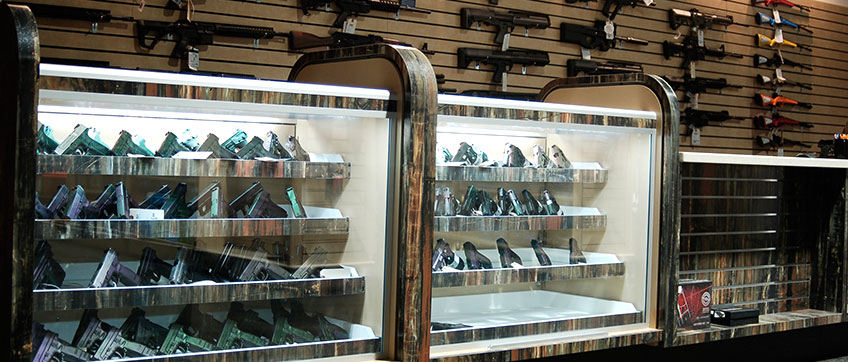 FAQs
Do you have to be a member to shoot at your range?
No, we are a public range.  Although we do encourage all of our customers to be members.  The benefits of membership include unlimited access to range time in both our firearms and archery ranges.  Discounts on everything in the store, and free gun rentals (with ammunition purchase).
Does my membership allow me to use the Archery Range also?
Yes, all members get unlimited access to both our firearms and archery ranges.
Do you sell used firearms/ take firearms on consignment?
Unfortunately at this time we do not.
How should I bring my firearm into your store?
All firearm being brought into the store should be unloaded and in a locked container.  We do allow and encourage Law Enforcement and those who have a CCW to carry in our store.  Remember to always keep your gun holstered at all time.
I have a CCW, can I carry my firearm in your store?
If you have a concealed weapons permit we would like you to view our store as you would any other public location. Please do not remove your firearm from concealment. Any firearm brought into the store to be used on the range or for any other purpose should be brought in unloaded and in a locked container.
Can I buy a gun online / have a gun shipped from out of state?
If you find a firearm you would like to purchase from an online store, we can receive the firearm and act as the transfer agent for you. Kings Gun Center Charges $75 to receive the firearm from the Valid Federally Licensed Firearms Dealer, and Process the paperwork to register the firearm to you. In Addition to the $75 process fee, you will be responsible for the $25 Dealer record of Sale fee, and California Sales Tax on the purchase price of the firearm.
All firearms shipped to Kings Gun Center Must be CA Legal. Handguns must be on the CA Roster of approved Handguns.
Do you guys do private party transfers?
If you would like to sell your firearm to another California resident, the transaction must be completed with both the seller and buyer present. The seller must provide valid identification with the sellers correct address. The buyer must provide valid identification as well as a firearm safety certificate. If you firearm being transferred is a handgun the buyer must provide 2 proofs of residency. All documents must be present at the time of the transaction. In addition to the $35 Private party transfer fee the buyer must show proof of purchase, from the last 30 days, of a California Approved lock or lock box. (available for Purchase at Kings Gun Center)
Return Policy
RETURN POLICY
GUNS
Guns 25% restocking fee if guns in DROS. No refunds after gun as left the store. In special cases, we will refund restocking if paperwork is in error by employee, or if the buyer clears up legal problems and is able to successfully purchase a firearm from our store.
OPTICS:
15-day return policy, must be new and have all parts and packaging. 25% restocking fee applies to all optics returned. If customer is within the 15-day period and wants to upgrade to more expensive optic in stock, restocking fee may be waived. All packaging is new and not used.
GENERAL INVENTORY.
15-day if not used, in original packaging and not damaged.
TRAINING:
Full refund or move to another scheduled class if before 48 hours of class start.
If within 48 hours of class start, no refunds will be given, but it can be moved to a later class date.
If we cancel the class a full refund will be given.
Can I purchase a gun for someone else?
No, it is against the law to purchase a firearm for anyone other than yourself, Even if your person you want to purchase for is a family member. If you would like to purchase a gift for someone we recommend using our gift card program.